Kimolos (Κίμωλος) was called "Argentiera" by the Venetians, and takes its name from the Greek word Kimolia, which means chalk. Both names recall the white rocks of the Island. And in effect, a white/silver quality of perlite is still being extracted today, along with cimolite, chalk.
Kimolos, what to see and do
The Castle of Kimolos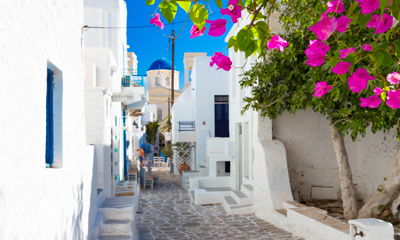 The Castle of Kimolos is in the Chorio. Once a refuge for the population escaping pirates, now the castle is abandoned, nevertheless, it is still a tourist attraction, recalling old medieval times.
Kimolos cathedral and churces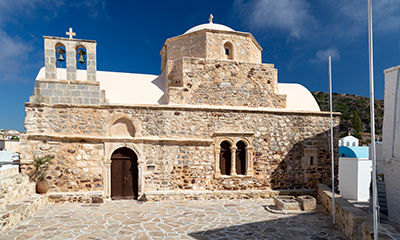 Do not forget to pay a visit to the cathedral of Panagia Odighitria in the Chorio, very rich inside, that of Agios Nicolaos, from the 17th century, and the church of Evangelistria, from 1608.
Prassa beach Kimolos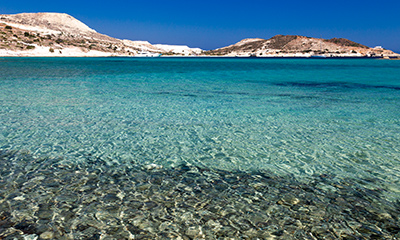 Prassa, a beach not to miss with white sand and beautiful clear water. In the busy months there is a beach bar for drinks, food and beach umbrellas. Prassa beach faces directly south and is protected from north winds, the meltemi.
The Elephant beach, Kimolos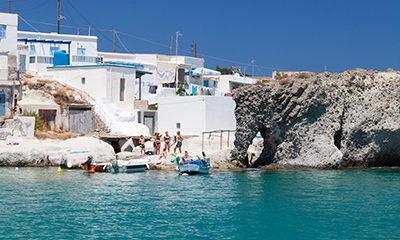 The beach is referred by the locals as the elephant due to the rock formation that looks like .... an elephant. The beach looks like a natural swimming pool and is close to the Chorio.
Skiadi formation, Kimolos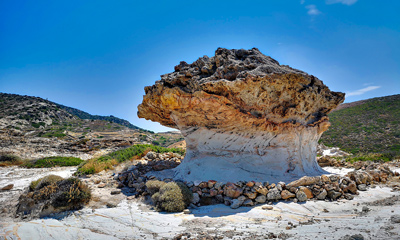 Skiadi is a rock formation with a shape of a mushroom. To access the mushroom you will need to walk for about 20 -30 minutes from the main road.
The island of Polyaigos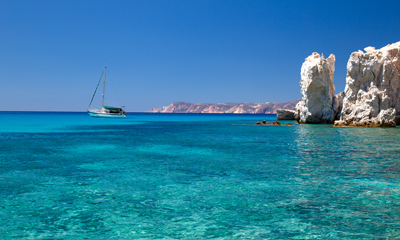 Kimolos offers the opportunity to visit the nearby islands of Agios Giorgos and Poliegos, opposite Psathi, reachable by boat.
Archaeological Museum and Folk and Maritime Museum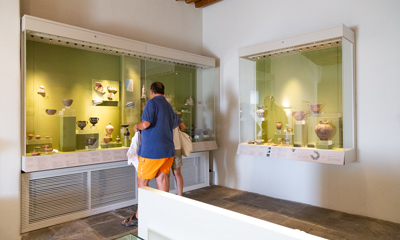 There are two museums, small but significant.
The Kimolos Archaeological Museum, located in the center of the Choriò, next to the church of Pan. Odigitria, tells the ancient history of Kimolos with images and finds.
The Folklore and Navy Museum of Kimolos, near the Kastro, carries out a historical journey to document the experience of the island, from its agricultural work tools, looms, and tools for navigation and fishing. A summary of the life of the inhabitants.
Underwater ancient city of Kimolos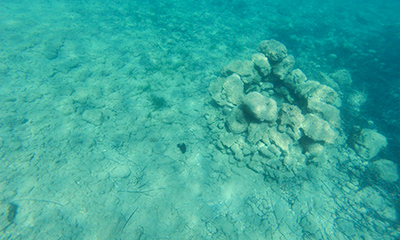 At Dekas, Ellinika and Mavrospilia beaches bring your snorkeling equipment. There you can explore the ruins of the underwater ancient city of Kimolos and the necropolis.
The ladies of Amoni beach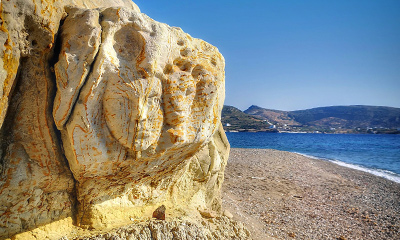 The ladies of Amoni beach, carved by uknown artist in the soft rock.