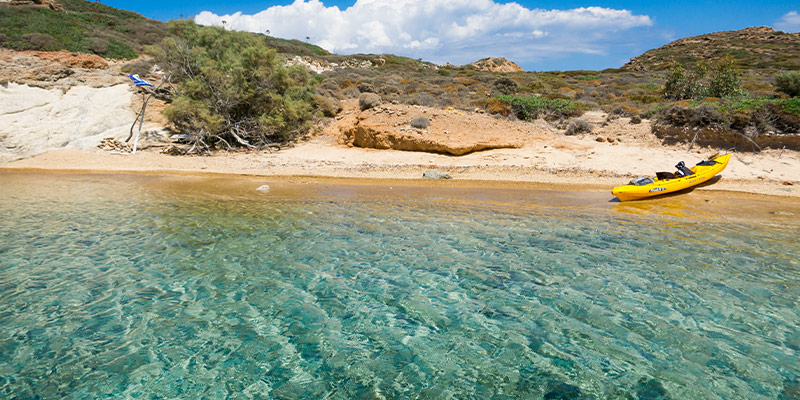 Kimolos unspoiled beaches
The unspoiled beaches of Kimolos
Kimolos beaches are mostly on the South coast, covered from the Northern winds, and show their sandy reddish or white colors, according to their location. They can easily be reached by car/motorbike, not distant from Psathi.
The beaches of Aliki, Bonatsa and Kalamitsi are large beaches with golden sand and are the ideal place in any weather, facing South. The beach of Prassa, just under the Perlite's mine, recalls a Caribbean beach. The beaches of Agios Georgios, also with white sand, and those of Livadaki, Klima, Rema and Psathi, the port area, complete the Southern side of the island.
There are also some beaches in the North and West sides of the island as Soufi, Monastiria in the north and Ormos of Athinia, and Kastro in the west and the island.
Kimolos beaches with restaurant
The Southern beaches have restaurants nearby (Bonatsa, Aliki, Psathi, Prassa).
Poliegos island
Kimolos offers the opportunity to visit the nearby islands of Agios Giorgos and Poliegos, opposite Psathi, reachable by boat.
---
Kimolos beaches, where to swim
Kalamitsi beach

Beautiful and quiet sandy beach with crystal clear waters and some trees suitable for shade. Easy access by bus, car or moto.

Bonatsa beach

Golden sandy beach with plenty of trees. Easy access by bus, car or moto.

Aliki beach

A long beach mixed with sand and pebbles. Easy access by bus, car or moto.

Prassa beach

A paradise-like beach with white sand and turquoise water. Easy access by bus, car or moto.

Karras beach

Rocky shore of white soft rock ideal for snorkelling. Easy access by bus, car or moto.

Rema beach (next to elephantas)

A natural swimming pool when the weather is windy. Easy access by bus, car or moto.

Psathi beach

A nice sandy beach next to the port with good choices of taverns and cafes. Easy access by bus, car or moto.

Ellinika beach and Dekas beach

Sandy beaches with some rocky parts, bring your snorkelling equipment to discover the ancient city under the sea waters. Access by car or moto.

Mavrospilia beach

Beautiful long sandy beach ideal for swimming and watching the sunset.Access by car or moto.

Agioklima beach

Secluded beach. Access by boat or path.

Klima beach

Beach with pebbles and sand and tamarisks for shade. Easy access by bus, car or moto.

Fikiada beach

Secluded beach. Easy access by sea, difficult by dirt road
Pictures from Kimolos beaches
---
What to bring at the beach
Beach umbrella
Portable Cooler
Beach Towel
Sunscreen
Water Shoes
Stainless steel water bottle
Snacks
Snorkel Gear